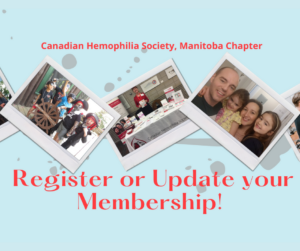 CHS-MC Membership Drive
Register you and your family for the first time or register to update your information via the online form in Member Services. Why should you register or update your information?
Thank you to the Manitoba Bleeding Disorders Program (MBDP) for partnering with the Chapter by mailing out a letter of invitation to people seen by the MBDP. Members who are not seen by the MBDP are encouraged to register through the Chapter website. The online CHS-MC Member Registration Form can be found in Member Services. If you require a paper form, please call the office at 204.775.8625 or email info@hemophiliamb.ca. 
Prizes!
All registrations received before August 31st will be entered to win a $300 Esso gift card. The earlier you get your registration in, the more chances you have to win! More draws in November 2022 and February and May 2023!