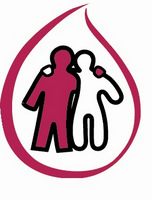 The Canadian Hemophilia Society, Manitoba Chapter Inc. (CHS-MC) is a grassroots, not-for-profit organization that was formalized in 1965 and incorporated in 1979. The Chapter was initially created to support individuals and families managing Hemophilia, an inherited bleeding disorder. The current organization has grown to embrace all inherited bleeding disorders. This includes rare bleeding disorders and the greatest addition being those affected by a common disorder, Von Willebrand's disease.
The mission of CHS-MC is to:

"improve the quality of life for those affected by hemophilia and other inherited bleeding disorders through support, service, research, education and advocacy."
There have been many people and events that have marked the history and evolution of CHS-MC, but our history really begins with Ray Daniels. In 1964 Ray began to search for people with hemophilia to come together to help each other. Charlie Kubin was our first President, 1965-1967. Ray Daniels followed as President from 1967 to 1971.
Charlie Kubin's commitment as President was followed by sons, Edward, (1973-76, 1979-80), Barry, (1980-82) and his daughter-in-law, Lynn, (1986-89). Several grandchildren over the years have sat on the Board and served on committees. Lynn Kubin also took on the challenges of being our Bingo Manager from 1989 until 2006. Many other families have been significant in their contribution in those early years: the Daniels, Botts, Laxdals, Robeiros, Sprengers and many more.
The early-mid 80's. After a very successful Casino event, we discovered Bingo. We started holding regular Bingo's at a rented Hall on Selkirk Avenue and began to realize very significant income. Up to that point our biggest revenue source was Colouring Books and other small fundraising events.
Under the direction of Presidents Ken Daniel, (1982-84) and Ray Decker, (1984-86) we decided we could now afford to look at the possibility of having an office and drop in centre. In 1984, we rented a store front facility on Portage Avenue with office and space in the back for a drop in centre. Stuart Johnson, a former President, (1976-79) became our first full time paid Executive Director. Stu had a larger vision for the Manitoba Chapter though. Soon we were looking at buildings to house our own bingo operations, office and drop in centre.
In late 1986, a Building Committee was formed, Chaired by Bill Featherstone and made up of Lynn Kubin, Stu Johnson, Barry Kubin, Nitin Oberio, Brian Robeiro, Ray Daniel, and Darryl Buchanan. On January 5, 1987 the committee met for the first time and commenced the planning stages for the new venture ahead for the Chapter. After several weeks of planning, securing funding and deliberation, a building was purchased. Renovation planning and the securing of contracts were next. In March, 1987 construction commenced and in July, 1987 we moved into our new office, drop in centre and bingo hall at 932 Erin Street.
Over the ensuing years, we funded hemophilia and other bleeding disorder research, hematology fellowships, CHS million dollar club research fund and numerous other projects. At the Manitoba Chapter AGM on March 18, 1994, Building Committee Chairperson, Bill Featherstone and Lynn Kubin, who was our President at the time of the building purchase and renovation, symbolically burned the fully paid mortgage for all to observe.
CHS-MC has a long and proud history as successful advocates for the bleeding disorders community. The Chapter participated in and had successful advocacy outcomes from the following: the 1992 Krever Enquiry into the "Tainted Blood Scandal", the 1993 Multi Territorial Assistance Package (MPTAP) for members infected with HIV and Hepatitis C, the 2005 re-indexing of the MPTAP in Manitoba to include cost of living, and the 2006 creation of a funded Manitoba Bleeding Disorders Program. The Chapter is also very proud of the treatment room that we purchased in the Cancer Care building at the Health Sciences Center.
By the new millennium, bingo profits were starting to drop. By 2003 the tide had turned and we realized we needed to find other sources of income. In 2005 we began the difficult and painful process of divesting ourselves of our bingo and building. We had to find other ways to serve the bleeding disorder community in Manitoba. We sold our building and moved back to Portage Avenue to another rented store front from 2006 to 2018. Upon completing a needs assessment process and strategic planning we moved to a virtual office in June of 2018. 
The Chapter currently offers support and services to over 200 families. The catchment area of the CHS-MC includes the province of Manitoba and areas in North-Western Ontario. CHS-MC provides direct services to defray expenses not covered by Medicare and provides educational programs and support services.