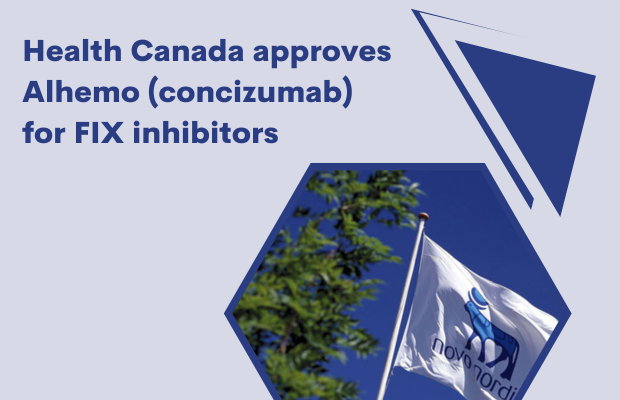 CHS CONTACT
David Page | 23/05/2023
Montreal – May 23, 2023 – The Canadian Hemophilia Society has learned that Health Canada recently approved Alhemo (concizumab) for the treatment of people, ages 12 and up, with hemophilia B and a factor IX inhibitor.
According to the Canadian Bleeding Disorders Registry, this rare and very serious complication affects fewer than five people in Canada.
Alhemo, manufactured by Novo Nordisk, is an anti-tissue factor pathway inhibitor (anti-TFPI) antibody that binds to the Kunitz-2 domain of TFPI and prevents TFPI from binding to activated factor X (FXa). The resulting reduced TFPI activity allows increased thrombin generation and subsequent clot formation, which aids in achieving hemostasis in hemophilia patients.
Before being added to Héma-Québec and Canadian Blood Services (CBS) formularies, and becoming freely accessible, Alhemo will need to be reviewed through the INESSS and CBS/CADTH health technology assessment processes in Québec and the rest of the country, respectively. No timetable has been announced for the start of these reviews.
Alhemo is currently under review by the FDA and may soon receive a similar indication in the U.S.
In addition, Phase 3 clinical trials have been completed in patients with both hemophilia A and B, with and without inhibitors. Approvals for these other indications may be granted in coming years, following evaluations of safety and efficacy.