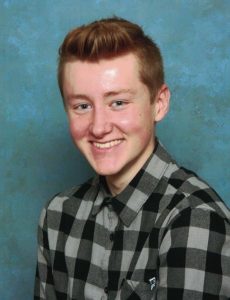 My name is Riley Nichol and I am a Hemophilia A mild. I am 15 years old, in grade 10 and I love sports. My favorite class in school is gym, where I take the opportunity to try all different types of sports. Over the years I have even played volleyball and basketball for the school. Our volleyball teams did pretty good. Our basketball team however never won a game, but we had fun.
Outside of school, I maintain both a summer and winter sport. During the summer I play baseball. I have been playing community league baseball with the Charleswood Goldeyes for 8 years, both in either "A" or "AA" levels and I have been part of the teams who have won the city championships 2 times. My favourite positions are catcher, pitcher and 3rd base. I have not had any major injuries with baseball, but keep in mind that I wear safety equipment such as helmets, catcher chest protector, and shin pads. I also always carry a first aid kit and a breakable cold pack in my sports bag.
During the winter, I curl. I have been curling since I was 6 years old. I started with the Little Rockers league at Charleswood Curling rink and have moved up the different age levels to now playing in the Junior Level league. I have also been playing in the men's curling league in Stonewall and Charleswood for the last 3 years. My main position is 3rd in the men's league and skip in my junior league. This past year I also had the opportunity to train with Curl Manitoba in their High Performance League. This consists of weight room training, running, nutrition and strategy classes, and on ice training. This past season I played 3rd for teams who won the Argyle and Warren men's bonspiels. Overall, I spend a minimum of 10 hours a week on the ice and the only issue I have had were nosebleeds. When this does happen, I am lucky enough to have 3 other teammates with me, so I just step off the ice and the remainder of my team takes over. They will throw rocks or sweep for me until I am able to rejoin the game.
I have been lucky to have had my Dad as both my baseball and curling coaches, but I do believe that information is best. I do make sure that any relevant teachers, coaches or team mates know of my bleeding disorder, just in case I have to step away during the game.